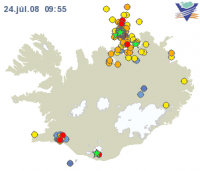 Over 700 small earthquakes have been measured off the north Icelandic coast, reports the Icelandic Meteorological Office.
The tremors hit in an area where earthquakes occur frequently, just to the east of the small island of Grimsey, which is the only part of Iceland within the Arctic Circle.
As of 0745 GMT there have been 31 earthquakes measuring over 3 on the Richter Scale, of which the largest were 4.7 and 4.8 and occured yesterday evening.
There have been no reports of injuries or damage to buildings.
Recorded number of earthquakes as of 0757 GMT:
Less than 1 on Richter:  33
1 to 2 on Richter:  273
2 to 3 on Richter:  366
Higher than 3 on Richter:  31
Total:  703