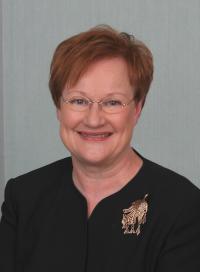 The President of Finland recently expressed her desire for Finland to continue assisting Sri Lanka, according to reports in the Asian Tribune. Tarja Halonen expressed her desire to see a peaceful settlement of the conflict in Sri Lanka to Ambassador Jayasooriya.
The Sri Lankan ambassador to Sweden, R.P. Jayasooriya is also the ambassador to Finland. On 5th June, Jayasooriya presented his credentials to the Finnish President at the Presidential Palace in Helsinki.
Following the ceremony, in the discussion that ensued, President Halonen showed her interest in the most recent political developments in Sri Lanka. Ambassador Jayasooriya described the course of this year's two elections as well as the new development projects in the Eastern Province, an area which was ruled by the Tamil Tigers (LTTE) for the last 20 years.
The President shared the difficult periods in Finland's history. She described Finland's difficult transition to a developed peaceful country in the wake of the Second World War.
In conclusion, the Finnish President expressed her desire for a peaceful resolution of the on-going conflict in Sri Lanka and hoped to be able to continue assisting the South East Asian nation in its development.