The second rehearsals of the Eurovision Song Contest are over and reporters following events and making predictions weren't taken by Svala's song after this last rehearsal according to the ESC Today. In Svala's devision Finland is climbing and has good predictions, but Artsvik has great ones and is expected to do well for her country Armenia.
The predictions go down as follows: 35 reporters follow the rehearsals and make predictions, each reporter is allowed to rate three songs, five points can go to the favourite song, next best can have three points and the third one may be given one point. In theory song can receive a maximum of 175 points but the record holder is Ukraine, with 119 points last year.
According to ESC Today "the second rehearsals give us new information regarding two aspects: it is a first glimpse of a more flowing running order while countries have the ability to show some improvement from the first rehearsals that were held earlier this week."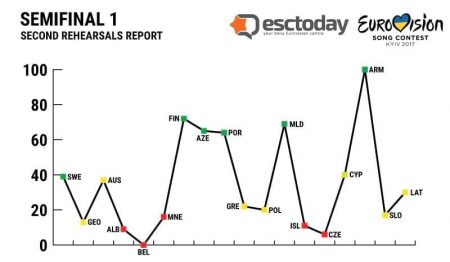 Last year the press poll survey was quite accurate according to ESC today. Eighteen of the twenty nations that made it to the finals last year were predicted to do so and the top three winners of the Eurovision Song Contest last years were accurately predicted in by the survey, Ukraine, Australia and Russia.
Icelands contribution Paper by Svala Bjorgvinsdottir received a low score after the first round of rehearsals and now, after the second round, she isn't doing to good either. She has received eleven points and is thought to be unlikely to make it to the finals. The predictions place her in 15th place in her division. Armenia scored 100 points, then Finland with 72 points and Moldavia with 69 points in that division.