For International Women's Day 2017 a new outreach has been made for people to exhilirate gender equality.  #BeBoldForChange is a call "on the masses or call on yourself to help forge a better working world – a more gender inclusive world"
People are asked to submit a #BeBoldForChange action or pledge via the International Women's day website.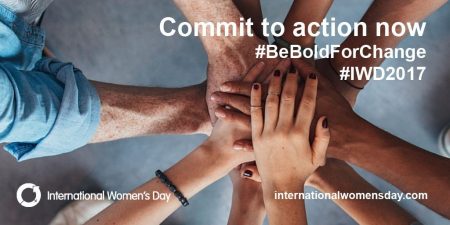 The aim is to turn 8 Mars, International Women's Day into a viable vehicle for change, each year under a different banner. Last year, organizations and individuals around the world supported the #PledgeForParity campaign and committed to help women and girls achieve their ambitions; challenge conscious and unconscious bias; call for gender-balanced leadership; value women and men's contributions equally; and create inclusive flexible cultures. From awareness raising to concrete action, organizations rallied their people to pledge support to help forge gender parity on International Women's Day and beyond.
The World Economic Forum predicts the gender gap won't close entirely until 2186. That is a long time and International Women's day can be a vehicle to exhilarate the change globally and move the world closer to gender parity.
The #BeBoldForChange rally calls on the world to use International Women's Day 2017 to consciously take action that truly drive the change for women. It calls on each individual, women, men and non-binary people to join forces and drive change through purposeful collaboration.