Deputy Prime Minster of Sweden, Isabella Lövin, signed a climate bill obliging future governments of Sweden to lessen the emitting of greenhouse gasses.
For the occasion Lövin published a photograph of herself on Twitter surrounded by her closest female colleagues, apparently mimicking a photo of US president Donald Trump signing what has become to be known as the 'Global gag rule' reinstated by Trump, curbing NGO abortion services abroad surrounded only by his male colleagues. A photo, which has since been named the photograph of patriarchy.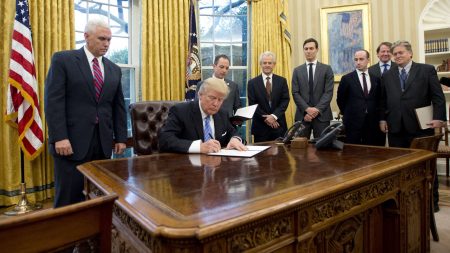 Lövin also serves as environment and development aid minister, is shown in the photo, seated at her desk as she signs the bill under the watchful eye of seven female colleagues, including one who is visibly pregnant.