A powerful string of earthquakes shook Reykjavik and the nearby area around noon today. The tremors were centered south of Thingvallavatn lake in South Iceland in Thingvellir National Park. The Icelandic Meteorological Office reports that the most powerful tremor was a 3.8 magnitude on the Richter scale and it was felt widely at 11:56 today. This quake was unmistakably felt in Reykjavik. A second, slightly smaller 2.8 magnitude quake was detected half an hour earlier at 11:26. The two quakes have been accompanied by a string of smaller tremors.
The larger earthquake was originally estimated to have been 3.4 magnitude, but the original reading has been updated by the Met Office.
The earthquakes originate 3-4 km north east of Hromundartindur mountain which is to the south of Thingvallavatn lake. Directly west of Hromundartindur is the volcano Hengill, one of the most active volcanic and geothermal hot spots in Iceland and a frequent centre of earthquakes. Two geothermal power stations are located in the foothills of Hengill, Hellisheidi power station and Nesjavellir power station. A total of 24 smaller quakes, the largest measuring 1.3 on the Richter scale, have been detected in the same area today, the latest at 12:38. One smaller tremor was also detected on the west coast of Thingvallavatn Lake.
Thingvellir is about 40 km northeast of Reykjavík. Thngvellir is a site of historical, cultural, and geological importance and is one of the most popular tourist destinations in Iceland. It lies in a rift valley that marks the crest of the Mid-Atlantic Ridge and the boundary between the North American and Eurasian tectonic plates. To its south lies Thingvallavatn, the largest natural lake in Iceland.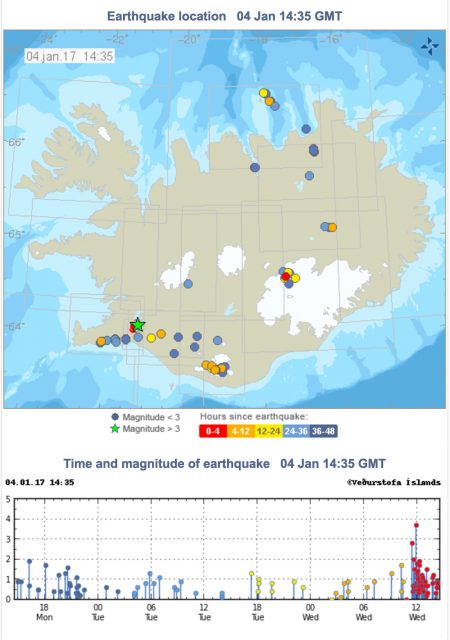 The images are from the website of the Icleandic Met Office, Earthquake data website are from the SIL seismic network, which automatically detects and locates earthquakes in Iceland and the surrounding offshore region.