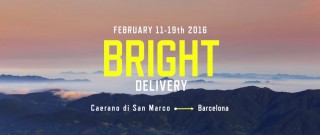 Italian sports and lifestyle brand Diadora is hosting the most spectacular relay race ever and they are looking for runners to participate. Norwegian-based creative agency SMFB is working with Diadora to recruit 80 runners for their 1,495 kilometer relay beginning in Venice, Italy, and ending in Barcelona, Spain. The project goes by the name of #MakeItBright, and will take a total of 9 days to complete from February 11-19.
"At Diadora, we have a slogan saying "make it bright" – this reflects everything we do and what we stand for," says head of communications Romina Zanchetta. "We think this act of joy, letting all of these people do what they love to make a special delivery for one lucky customer, was a unique chance to prove it. We hope people will have fun taking part in this happening."
The purpose of the run is to celebrate the launch of a new brand campaign and hand-deliver the very first pair of Diadora N9000 shoes from the factory in Italy to a lucky customer in Barcelona. Runners from all over Europe are invited to join the joy and apply for their preferred leg, while spectators are invited to watch the relay race live. Assuming a participant runs at a pace of 10 kilometers per hour, a total of 150-300 kilometers will be covered per day on small, quiet roads across Italy, France and Spain.
Diadora was founded in 1948 as an artisan's laboratory for making mountain boots in Caerano di San Marco Italy. These quickly established themselves as the best mountain and work boots on the market. 68 years later, Diadora footwear and apparel can be found in the stores of more than 60 countries across the world. The word Diadora ("dia-dorea") means "to share gifts and honours"—a reference to the values of competitive sports as well as team spirit and the sense of working together towards a common goal.