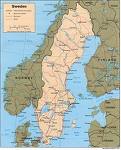 A group of asylum seekers took to the streets in the northern Swedish town of Grytan on New Year's Eve to protest about where they have wound up.
The 40-strong group, comprised of mainly Syrians as well as some from other Middle Eastern and African countries, said that they were driven to the small northern town but were unhappy with the conditions.
It was reported that when they realised the size of the town and how cold it was at this time of year, they refused to get off the bus and demanded that they were driven to a major city instead.
One 75-year-old asylum seeker said at his age and being from the Middle East, he should not be sent to a place like Grytan. He claimed that Swedish authorities had not informed them about where they were going, so everyone on the bus assumed they were being taken to somewhere more livable. He added, pointing to the ice and snow, that the town was not somewhere he felt he could live.
There has growing tension in Sweden in recent months, with Islamophobia said to be on the rise. In the past four weeks, there have been three attacks on mosques across the Scandinavian country, while protesters have also taken to the streets in Stockholm, Gothenburg and Malmo to show their support for Sweden's Muslim community.