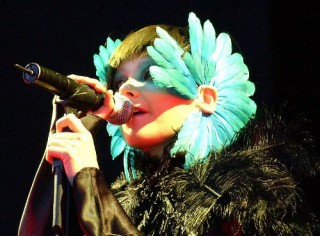 A cinema in the Belgian capital Brussels is to put on a celebration for the iconic Icelandic musician Bjork.
Starting in January 2015, the cinema, Galeries, will host a number of events to honour Bjork. It will shows films that star the singer such as Keene Nietzcha's The Juniper Tree and Lars von Trier's Dancer in the Dark. After that it will host a special installation in its exhibition rooms.
In addition, Galeries is to stage a concert in collaboration with renowned artistic team Q-Q2, with both Henry Vega and Anat Spiegel charged with putting together a showcase of sound art and exceptional music. They will deliver an instrumental piece, with Anat Spiegel's voice, designed to create a digital language to honour Bjork.
The Icelandic musician is thought to be preparing to release her latest studio album next year. She is believed to have been working with UK-based producer Arca, and was seen at a PC Music-organised party in London recently.
Meanwhile, a statement on her website explained that she had to withdraw from her scheduled appearance at the London movie premiere of Biophilia Live because she was working on her upcoming album.