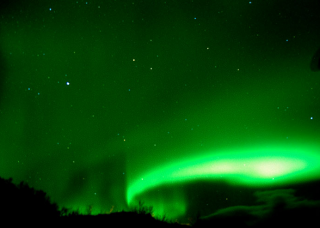 A new hiking tour in Iceland is being offered by Trek.is, giving walking enthusiasts the opportunity to discover the Northern Lights in the wilderness of South Iceland.
Trek's Northern Lights hiking trip will take you on a breathtaking tour to the most spectacular places in South Iceland over four days and three nights: The Golden Circle, Solheimajökull, Þórsmörk Valley, Laugavegur, and Fimmvörduháls.
Each night you will be lead by an experienced guide into Iceland's unique wilderness, hunting for the incredible natural phenomenon of the Northern Lights.
Iceland's location just below the Arctic Circle is the perfect destination to experience the natural dancing light displays of the Northern Lights, as they occur most frequently in the Polar Regions, centred within a 2500 km radius of the geomagnetic pole.
Day one, visitors will be taken to Þingvellir National Park, a UNESCO world heritage site, and then continue on the Golden Circle, which includes the Geysir area, and Gullfoss, one of Iceland's most beautiful waterfalls. After that, visitors will continue towards the Solheimajökull Glacier, and will have the opportunity to ice hike across Solheimajökull, a spectacular tongue of ice that flows down from Mýrdalsjökull, the fourth largest glacier in Iceland.
Day two, visitors will travel to Fimmvörðuháls, hiking between two glaciers, Eyjafjallajökull and Mýrdalsjökull, which was the site of the infamous volcanic eruption in 2010. For thousands of years, glaciers and glacial rivers have carved out this valley, creating a very dramatic landscape of sandstone sculptures, deep canyons and sharp ridges.
Day three, visitors will get to explore the famous Laugavegur trail, starting from Þórsmörk, Iceland's incredible valley with views of Mýrdalsjökull and Eyjafjallajökull, then walk at the foot of the Einhyrningur, the horn-shaped mountain, and into the dense birch forest of Þórsmörk.
On day four, the final day of the tour, visitors will head back to Reykjavík, before stopping by the Gígjökull glacier and Seljalandsfoss waterfall, which cascades from ancient sea cliffs down over 60 metres in to a shallow pool.
Each hiking trip will last between 4 to 7 hours each day, and includes hiking equipment, hiking shoes, sleeping bag, meals, and accommodation.
To find out more regarding this Northern Lights hiking trek tour, visit http://www.trek.is/en/home/northern-lights-tours/northern-lights-trek