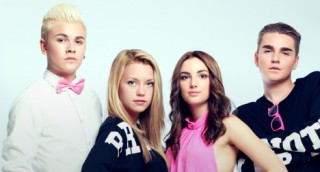 New Swedish teen band A*Base, dubbed the new Ace of Base, has just released their debut single, Never Gonna Say I'm Sorry.
The song, which is a cover of Ace of Base's 1995 hit, has been described by Time Magazine as a "slick, clean and very faithful update". The teenage quarter have already been compared to A*Teens, a short-lived Abba tribute band that were launched in the noughties.
Despite just releasing their debut single, A*Base were created in 2012. The group consists of four members: Emil Henrohn, Malin Enstedt, Alexander Beyer and Matilda Lundberg, all of whom are aged from 15 to 17. They are said to have spent the past two years recording their album of Ace of Base tracks called Happy Generation.
Ace of Base shot to stardom in the 1990s with hits including All That She Wants and Don't Turn Around, selling over 30 million records worldwide. However, the original group has admitted it know little of the new band until recently, with singer Jenny Bergrren saying that although she wasn't informed, it was fun that it lived on.
Meanwhile, former bandmate, Ulk Ekberg, admitted he had heard stories of the project prior to the official announcement. He added that A*Teens worked out well, and it was "flattering" a tribute band to Ace of Base had been formed.