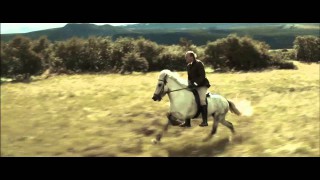 Icelandic drama Of Horses and Men has won the annual Nordic Council Film Prize.
The Benedikt Erlingsson-directed movie won Scandinavia's most prestigious cinema honour after beating off competition from Finnish film Concrete Night, Denmark's Lars von Trier's Nymphomaniac, Swedish avalanche movie Force Majeure and Norwegian feature Blind.
It is the first Icelandic movie to claim the Nordic Council award, while Erlingsson will also pick up a $60,000 cash bursary.
The Nordic Council jury said that described Of Horses and Men as a "strikingly original" movie which portrays the humour of its country's saga tradition. It said that Erlingsson demonstrates a clear understanding of the primal nature of both humans and horses, and uses the horse's point of view to display "tragicomic human behaviour".
The movie has been a hit at film festivals around the world and has gained great critical acclaim. It won Iceland's version of the Oscars (the Edda Awards) as well as top prizes at the Tokyo International Film Festival, San Sebastian and Black Nights in Tallinn.