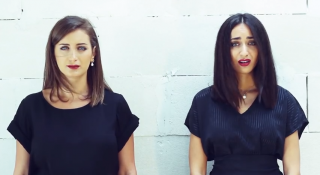 Two Swedish sisters from the town of Sodertalje near Stockholm have seen a video they posted on YouTube calling for peace in Syria receive 1.3 million hits.
Rihan, 23 and Faia Younan, 22, whose family are from Syria, say on the video that the three-year-long war is "crazy, selfish and illogical". The sisters speak and even sing in Arabic as they urge politicians to work together and resolve the crisis so the country can be "safe, prosperous, triumphant and dignified" again.
The video was posted at the beginning of October but didn't start gaining more hits until last week when the international media picked up on it. Now, thousands of YouTube users have left comments with the hashtag #ToOurCountries.
Faia said that many people have contacted them and thanked them for posting the video as it gave them so much hope. She explained that their aim was to show people that there needs to be a different perspective than the blood, crying and destroyed buildings that are seen on the news every day.
She added that they wanted to remind everyone about the beauty of Syria and show them that they maintain the hope it will be good again one day.