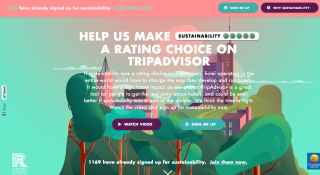 A new sustainability campaign initiated by the Norwegian Comfort Hotel chain and supported by the Rainforest Foundation Norway is pushing the need for a hotel sustainability rating on TripAdvisor, the popular travel website.
More and more travellers are seeking green hotels as ecotourism and sustainable tourism is on the rise, and people are becoming more eco conscious.
The new campaign, DearTripAdvisor, is encouraging TripAdvisor to include a sustainability rating, giving users the opportunity to rate a hotel on its sustainability, such as using only organic products, the efforts made to cut CO2 emissions, the reduction of chemicals and water usage, and minimising the wastage of food.
Currently, TripAdvisor has the following categories based on a 5-point system: Sleep Quality; Location; Rooms; Service; Value; Cleanliness, where all hotels strive to achieve the highest of ratings.
DearTripAdvisor believes that if a sustainability rating choice was implemented, then all hotel operators across the world would have to change the way they develop and run hotels in order to reach the top spot, thus having a significant impact on the planet.
Comfort Hotel stated it is helping to find better solutions for both its guests and for its sustainability. Simply offering a better bed or a better location isn't enough anymore. Everything has to be done in a sustainable way.
For example, Comfort Hotel prides itself in serving only organic coffee and tea, reducing the consumption of red meat and increasing the consumption of healthy fruits and greens. The chain also encourages its laundry suppliers to use less water, and to transport its deliveries more efficiently.
A video explaining the campaign in more detail can be viewed via the campaign website, deartripadvisor.com
To follow the campaign on Twitter, use the hashtag, #DearTripAdvisor.