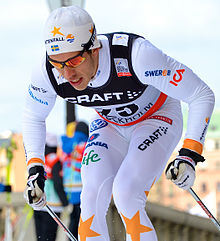 Sweden claimed gold in the men's 4x10km cross country relay last Sunday, completing a rare double after also being victorious in the women's event.
It is the first time in 42 years that both cross country relays have been won by the same country.
The team of Lars Nelson, Johan Olsson, Daniel Richardson and anchorman Marcus Hellner claimed victory in 1hr 28min 42 sec, with Hellner crossing the line with his country's flag tied to one of his ski poles. Russia claimed the silver medal while France were a surprising third.
Hellner is now officially one of Sweden's most successful Olympians, having won three Winter Olympic gold medals. Only cross country skiers Thomas Wassberg, Gunde Svan and Sixten Jernberg have claimed more with four.
In the last Olympics in Vancouver in 2010, he won gold in the relay and the skiathlon; he was also the silver medalist in this year's skiathlon. He said he was incredibly lucky to be the person to bring the team over the line, noting that his teammates enabled him to do so by creating such a big gap.
Olsson added that they worked really hard to win the race, explaining that they set the pace as they knew they were the strongest team.
Sweden have now won eleven medals at Sochi so far.