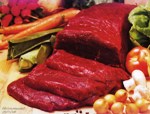 Charlotte Church has been heavily criticised by the People for the Ethical Treatment of Animals (PETA) after she told reporters she tried reindeer meat during a recent trip to Iceland.
The Welsh singer told the UK's Guardian newspaper that she and her partner Jonathan Powell recently visited the tourist haven of Iceland to write a travel feature and, while they were there, decided to sample the popular local delicacy of reindeer carpaccio in an upmarket restaurant.
During an interview with the paper, Church explained that they spent a fun-filled evening complete with alcohol and a reindeer carpaccio meal.
However, PETA bosses have been quick to criticise the couple's choice of cuisine, with the organisation releasing a statement saying that maybe one day she will decide to use her beautiful voice to help save animals like reindeer, who should be regarded as awe-inspiring and not something to be eaten.
Church revealed that during her trip to the North Atlantic nation, Powell also tried minke whale, fermented shark meat and puffin.