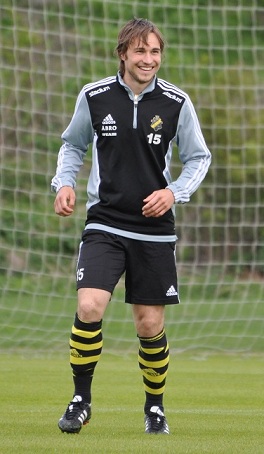 Footballer Kevin Walker has won Sweden's Pop Idol, bringing an end to a story that has had sport and music fans captivated for weeks. The 24-year-old midfielder has a Swedish mother but is also eligible to represent the Republic of Ireland through his father, Patrick Walker, who previously managed Orebro SK.
He currently plays for Swedish second division side GIF Sundsvall, although competing in the talent show has resulted in its fair share of disruptions, both for himself and his team.
His advancement to the final of Pop Idol was reported across the globe after several of his club's matches were rescheduled in order to avoid clashing with the talent show. Upon being announced as the winner of the contest, he said it was "totally amazing" and he felt "pure joy".
Walker, whose side narrowly missed out on being promoted to Sweden's top tier last month, has had a far from easy ride in his career. Five years ago he suffered a blood poisoning bout that nearly took his life, according to his father. He had to take strong medication for six months and at one stage was in a "very critical" condition before making a full recovery.
He won the final at the Annexet arena in Stockholm on Friday after performing renditions of U2's Where the Streets Have No Name and John Mayer's Say. Elin Bergman, who sang Pink's Raise your Glass and Amanda Jensson's Happyland, finished in second place.
There is now the question of what direction Walker will choose to take, with many believing it will be too tough to juggle the commitments of a footballing and a pop career.