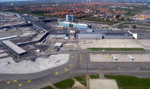 A French bistro at Copenhagen Airport has been named as the best airport restaurant in the world. Le Sommelier Bar & Bistro, which beat off competition from Michelin-rated chefs including Gordon Ramsey and Jamie Oliver as well as last year's victor Porta Gaig at El Prat del Llobregat, Barcelona, came out on top of The Daily Meal's top airport restaurants list.
Le Sommelier, which also has a branch in downtown Copenhagen, serves traditional French cuisine such as bouillabaisse, moules marinieres, Mallard duck with black current sauce and crème brulee.
Judges compiled the list after comparing the cuisine, style, service and décor of airport restaurants around the world. They also placed importance on using fresh, local, sustainable foods, which has developed into a fashionable trend at many of the world's top airports.
The list is dominated by airports in the US, with a total of seven making it into the top ten. Porta Gaig dropped one place to second on this year's list, followed by the Salt Lick BBQ at Austin-Bergstrom International Airport.
Napa Farms Market at San Francisco International Airport was ranked in fourth place followed by Tortas Frontera at Chicago International Airport, which in 2011 became the first airport to feature an aeroponic garden which grows products such as coriander, green beans and Swiss chard used by restaurants including Tortas Frontera.