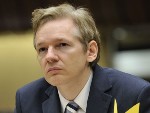 Julian Assange, famous for the Wikileaks publication, may well travel to Sweden in the near future to clear his name in rape allegations, and free him from his asylum in the Ecuador embassy in London.
According to the Washington Post, the United States government has indicated they will not press Sweden to extradite the Australian to face charges in the US, probably due to the weak case. Doing so would mean prosecuting the newspapers that printed the leaks, something they are unwilling to pursue.
Assange has been living in the cramped embassy for a couple of years, after the South American country granted him asylum to avoid persecution in the wake of the biggest data privacy scandal in history.
To complicate the matter, Assange found himself accused of rape while residing in the country, charges which he is willing to fight and considers spurious. Britain is obliged to extradite him. However, his fear that authorities will be pressured into handing him over to the US in an extradition agreement means he has sought asylum.
Meanwhile, the United Kingdom government spend an estimated £3 million a year guarding the embassy to ensure he does not escape. They have him in contempt of court, and find the whole issue rather uncomfortable since it pressures their long standing good relationship with  the United States.