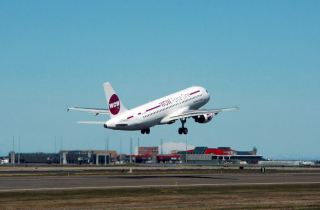 It has been announced that WOW air has been awarded the Air Operator's Certificate (AOC) by the Icelandic Transport Authority; it has been 30 years since a passenger airline in Iceland has been awarded the certificate.
The Air Operator's Certificate gives the company control over all operations of the airline, meaning it will not have to depend on any other airline operators.
"The Transport Authority would like to express its joy over awarding a new Icelandic airline the license to operate as such. We wish them good fortune and we hope for good cooperation in the future," says Hermann Guðjónsson, the General Director of The Icelandic Transport Authority.
According to WOW air, the airline has grown rapidly, doubling since last summer. Last year, WOW air carried around 90 thousand passengers; this year the passengers will be around 450 thousand; and next year it is estimated that 720 thousand passengers will travel with WOW air.
WOW air aims to have five operational Airbus A320 aircraft, which use less fuel and are friendly towards the environment. The aircraft used by WOW air are the newest in passenger flights to and from Iceland.
"The AOC is a breaking point in the history of aviation in Iceland. I am proud of this accomplishment, which will prove to be a landmark in the ongoing growth of the company. First and foremost I am grateful for the people that work for WOW air and have made the WOW come to life. I am also grateful for how well we have been received from day one," explained Skúli Mogensen, founder and CEO of WOW air.