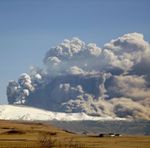 New research has shown that the Eyjafjallajökull eruption in Iceland disrupted global aviation operations more than the 9/11 attacks in the US. Although the immediate impact of the 9/11 attacks in 2001 was bigger, with around 200 airports closing down compared to 100 following the 2010 eruption, scientists at the Northwestern University in Illinois have worked out that the eruption had a bigger overall impact.
University of Reykjavik lecturer Yngvi Björnsson said that the team of mathematicians and engineers had concluded the Eyjafjallajökull eruption disrupted the whole aviation transport system on a larger scale than what the terrorist attacks did.
Yngvi Björnsson explained the reason behind this was that many important connection airports across Western Europe had to be shut down on the back of the eruption, something which had a knock-on effect all round the world.
He went on to say about the findings, which were published in monthly science magazine PLOS ONE recently, that it was also interesting to see researchers use artificial intelligence in such a way these days. He noted that this is another example of how people can look deeper into data in order to find many kinds of causation, which wasn't possible in the past.
Eyjafjallajökull volcanic eruption, northwestern university, 9/11 attacks, twin towers attack, University of Reykjavik