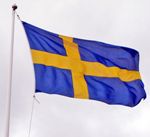 The Swedish Migration Board has said it expects fewer asylum seekers in the years to come than previously thought, with tighter EU border controls likely to result in a downturn. By the end of this year, the board expects that the Scandinavian country will have taken in 45,000 asylum applications – 9,000 less than previously predicted.
It now expects that it will receive around 48,000 applications next year, 3,000 fewer than previous forecasts.
However, migration figures for asylum seekers remain at an all-time high because of the Syrian conflict. In 2011, Sweden received 29,648 refugee applications, a number that increased to 43,887 last year.
The Migration Board is now reviewing the conflict in Syria and is likely to grant asylum seekers permanent residency in Sweden instead of the temporary residencies it has been granting up until now.
Director Anders Danielsson said that they can't look into a crystal ball and see how things will develop, but noted that Sweden's planned withdrawal from Afghanistan next year could impact the flow of refugees to Europe. Regarding the situation in Afghanistan, he said that they will need to be prepared.
Currently, the high number of asylum applications is leading to delays in the Migration Board issuing other kinds of entry permits to the country. Immigrants applying to have family members join them in Sweden and those looking to become Swedish citizens are having to wait longer, but Danielsson noted that they have to prioritise those who don't have homes.