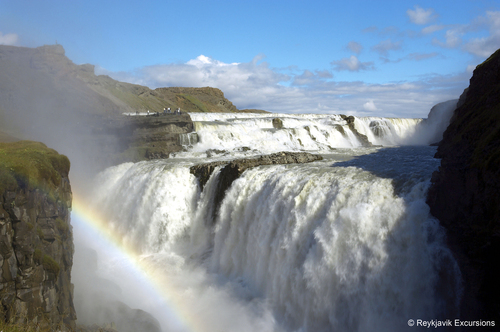 It has been noted that the Golden Circle is the most desired tour destination in Iceland, according to recent surveys conducted on the Icelandic tourism industry.
The Golden Circle is a tourist route covering roughly 300 km from the country's capital, Reykjavik, to central Iceland and back. There are three main stops during the circle: Þingvellir; the waterfall Gullfoss (golden falls); and the active geothermal valley of Haukadalur, which contains the geysers Geysir and Strokkur.
Þingvellir is a site of historical, cultural, and geological importance; Alþingi, Iceland's parliment was established at Þingvellir in 930 and remained there until 1798.  In 1930, the national park was founded to protect the parliament site, as well as Þingvallavatn, the largest natural lake in Iceland. Þingvellir is also the site of a rift valley that marks the crest of the Mid-Atlantic Ridge.
Reykjavik Excursions, a leading tour provider in Iceland, offers its own take on the Golden Circle tour. As part of its tour, guests will visit the aforementioned sights, as well as the Friðheimar cultivation centre, and experience the Geysir multimedia show.
In addition, Reykjavik Excursions offers free wireless Internet access on every bus in its fleet during all excursions in Iceland, as well as the Flybus airport shuttle. This free Internet connection gives passengers the opportunity to interact with their friends and family, as well as uploading photos online seconds after visiting these sights – sharing their unique experiences over the web.
To find out more regarding Reykjavik Excursions' Golden Circle tour, visit http://www.re.is/DayTours/GeysirandGeothermal/Detail/Golden-Circle/