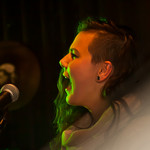 Icelandic band Of Monsters of Men are still enjoying a rapid rise to fame, and their upcoming tour of Australia is set to be a roaring success. The six-piece indie folk group will travel to Australia to perform at Splendour in the Grass, the annual winter music festival.
The band will also play other shows at the Palaise, Metro and Enmore theatres in Sydney.
Of the performances, three have already completely sold out, including Splendour in the Grass. The group will also travel to Adelaide to headline the Spin-Off Festival. They were originally only scheduled to play at the Palaise and Enmore theatres, but due to the high demand for tickets, the organisers added Metro to the list of venues.
The band's debut album My Head is an Animal, which was released in 2011, climbed to number 1 in the Australian album charts, while the first single, Little Talks, reached the number 1 spot in the US, Ireland and Iceland.
Lead guitarist Brynjar Leifsson has spoken of his surprise at how quickly they have gained popularity. He said it's nice to see many people appreciating what they are doing and wanting to help them, adding that it's beautiful and a lot of fun.