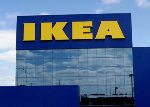 IKEA founder and Europe's richest person Ingvar Kamprad has said he plans to return to Sweden. Kamprad, who has a fortune of $51.7bn and is the world's fourth-wealthiest person according to the Bloomberg Billionaires Index, fled his homeland four decades ago because of the high tax rates.
The 87-seven-year-old made his fortune through the largest furniture maker in the world, IKEA.
He moved from Sweden to Switzerland in 1973 in an attempt to keep his company closely held, something that the Swedish tax regime made difficult for him to do.
However, Kamprad has now decided that the time is right for him to return home. He told Swedish media that moving back to his homeland allows him to be closer to his family and his old friends. He explained that after his wife, Margaretha, passed away 18 months ago, there is less keeping him Switzerland.
During the 1980s, Kamprad introduced an intricate ownership structure of foundations as well as other legal entities in order to protect the IKEA brand and ensure its long-term future. Because he still controls this structure, Bloomberg credits him with the full value of IKEA and its operations when calculating his worth net.
However, Kamprad claims that the total IKEA value should not be classed as his as he separated the retailer into two parts over three decades ago.