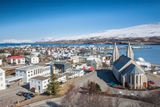 North Iceland has been named as a Top 10 European Destination for 2013 by the world's leading travel publisher, Lonely Planet. The list, which was compiled by the team's editors, local experts and wide-roaming authors from the U.S. and London, placed North Iceland in third place.
According to the Lonely Planet, travellers should venture away from Reykjavik and the popular Golden Circle route to experience the charms of the North including Iceland's second city Akureyri, as well as the region's "dramatic geysers, lava fields and towering waterfalls."
Arnheiður Jóhannsdóttir, general manager of North Iceland Marketing Office, said, "We are proud to hear that Lonely Planet has seen the potential in North Iceland, which is an area that has been growing in popularity during the past years. We have many of Iceland's most popular natural attractions such as Dettifoss, Europe's most powerful waterfall and on Grímsey island you can cross the Arctic Circle."
Myvatn Nature Baths, an outdoor geothermal pool similar to the popular Blue Lagoon in Keflavik, was also noted by Lonely Planet as a great reason to visit the North. The chance of spotting the Northern Lights was also noted as being higher than 'in even more northern parts of Scandinavia.'
Jóhannsdóttir continued, "The area is very versatile and attracts visitors all year round including the winter months when the magical Northern Lights dance in the sky and you can enjoy watching seals, whales, take on exciting jeep tours or simply enjoy the icy landscape. Additionally, visitors can now get direct connecting flights from Europe and the U.S. to Akureyri in North Iceland with Icelandair, making it even more accessible for those wanting to explore this part of the country."
Andy Murdock, U.S. digital editor of Lonely Planet, commented, "Few destinations seem to be attracting as much word-of-mouth love as Iceland right now. With a small window of affordability, popular Icelandic bands, mystery writers, and a seeming worldwide need for a long soak in a hot spring, Iceland seems to be on every traveller's mind this year."
To read the full Lonely Planet article, click here. In addition, for more information about North Iceland, visit www.northiceland.is.