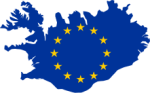 Iceland has withdrawn its bid to join the European Union, announced its foreign minister Gunnar Bragi Sveinsson.
Three weeks after being installed in his position by the newly elected Icelandic government, the foreign minister said that "this is how democracy works". He explained that the new coalition government in Iceland was against the idea of joining the EU at present.
Sveinsson, who was on his first foreign visit since being appointed, said that the trip's main purpose was to inform the European Commission that the coalition government has decided that negotiations should be put on hold for now. He added that Iceland is part of Europe and hopes to strengthen relations in other ways.
Czech commissioner Stefan Fule, who is in charge of EU membership bids, said that decision to withdraw the bid is a "personal blow". He explained that on a personal level it was not easy for him to accept the decision, but that professionally he respects what the elected representatives have opted to do.
Despite the change of heart, he feels the talks on the North Atlantic nation's accession to the union need to be completed in the correct manner. He noted that it is important the Icelandic government let him know soon whether it plans to reopen talks with the EU in the future or not.
Earlier in 2013, Iceland said it would withdraw its bid to join the EU if it was not satisfied with the deal on fishing rights it received for its territorial waters.