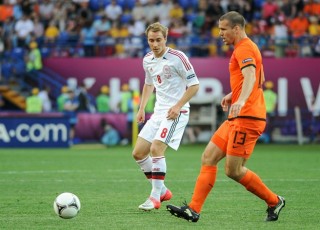 Danish youngster Christian Eriksen has hinted that he could be heading to Borussia Dortmund this summer.
The Ajax playmaker has been amongst the most sought after players in Europe for the last couple of seasons due to his impressive performances for the Dutch side. He is the top target for Liverpool during the summer transfer window, but it appears as though the German side could have the upper hand.
Dortmund, who lost the Champions League final to rivals Bayern Munich last month, will be trying to replace their own young star, Mario Goetze, who has clinched a move to Munich, and Eriksen appears to be the man to fit that bill. Chelsea's Kevin De Bruyne is also on Dortmund's radar, although any move for the young Belgian is likely to be a loan one.
Liverpool are looking to secure a couple of transfers this summer as they attempt to break into the top 4 of the Premier League and return to Champions League action. However, with uncertainty over Uruguayan Luiz Suarez's future, and Eriksen's hint that he could be heading to the Bundesliga, the close season has not got off to the best of starts.
When quizzed about Dortmund coach Jurgen Klopp, Eriksen said that he comes across as a great coach and a good person. He noted that it's nice to have a charismatic coach who is not afraid to play young players, adding that he wants to play for someone he can trust and build a strong relationship with.