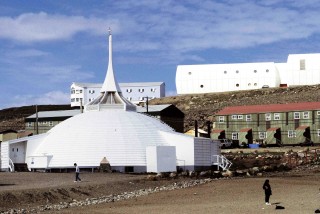 Summer flights between Greenland and the Canadian territory of Nunavut have resumed, but not without a slight hitch.
The Nuuk to Iqaluit service, which was only introduced last summer, went ahead on Monday, but not before heavy snowfall almost caused the flight to be cancelled. It eventually took off an hour late.
Dennis Brodka, first officer at Air Greenland, confirmed that Greenland's weather office advised that the conditions did not look good. However, he explained that the weather later improved and, as it was the first flight of the season, they really wanted it to go ahead.
Initially, the flight had been scheduled for Friday, but due to low demand the airline decided to change the date. There were 15 passengers on the flight to Iqaluit, but none on the return flight to Nuuk.
The captain of the flight, William Cronin, said that they hope to have more passengers on the flights in the coming weeks. He explained that they are looking for fuller flights and, as the weather improves, so be able to achieve that.
The service is being offered by Air Greenland and the northern Canada airline, First Air. The majority of passengers on the flights tend to be business travellers. Meanwhile, Brodka wants the service to be year-round in order to connect people in Greenland and northern Canada.