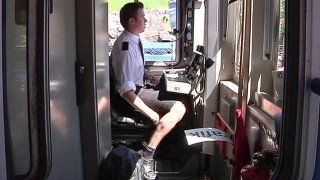 A Swedish train company has lifted a shorts ban which had led to a group of disgruntled drivers wearing skirts to work in protest at the initial ruling.
Dozens of drivers, who claimed it was too warm in the summer months to wear long trousers while driving, had taking to wearing skirts in the last two weeks in protest against Arriva's ruling that shorts wear not acceptable attire to wear to work.
Arriva initially said that the drivers, who work on the Roslagsbanan line north of the capital Stockholm, were welcome to don the skirts as long as they looked respectable. However, it has said that it has heard what the drivers have had to say and new work shorts will be available in the coming weeks.
Spokesman Tomas Hedenius said that they considered may of the drivers' suggestions and opted to change their minds regarding the shorts. He explained that they're now talking to the union about the best way to go about it, but that the shorts are likely to be available this summer. But he said any driver who wants to continue wearing the skirt can do so.
The drivers' complaint was that during the summer months, temperatures in their cabins soar to 35C, so when the shorts ban was announced they decided to wear skirts, which is what their female colleagues do.