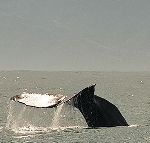 Bucking the conservation trend, an Icelandic company intends to restart commercial fin whale hunting this season, raising the spectre of sanctions imposed by the United States.
Hvalur plans to use its quota of 154 whales, following a two-year break after its market in Japan was disrupted by the tsunami there. Japan is the predominant consumer of whale meat and one of only three countries still hunting these endangered mammals.
Iceland, Norway and Japan have chosen to ignore a global moratorium on whaling laid down by the International Whaling Commission in 1986. Iceland resumed whaling in 2006 but has come under intense international pressure to stop.
Chief Executive Kristjan Loftsson said Hvalur will commence in June and the meat would be exported to Japan. "Things are improving there… everything is recovering."
"The quota is 154 whales plus some 20 per cent from last season possibly," he added.
In 2010, Iceland fulfilled its quota at a time when President Obama had to personally intervene and back away from proposed sanctions, pressuring the government in Reykjavik instead.
Meanwhile, Japan continues to hunt a quota of some 1,000 whales in the open seas of the Antarctic Ocean, much to the chagrin of the Australian government, and has become the subject of Whale Wars, a TV documentary where urban eco warriors aboard the Sea Shepherd ships clash with whaling ships in an attempt to disrupt their activities.
The captain, Paul Watson, has so far not concerned himself with Icelandic whaling despite it being in the neighbourhood of this famous Canadian activist.