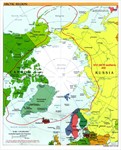 On 15 May 2013 the Arctic Council will hold its biennial Ministerial Meeting in Kiruna in the north of Sweden. Approximately 300 people – ministers, delegates from the eight Arctic states (Canada, Denmark, Finland, Iceland, Norway, Russia, Sweden, and the United States), representatives of indigenous peoples, scientists and observers – will gather in to mark the end of the two-year Swedish chairmanship and the beginning of the Canadian chairmanship of the Arctic Council.
The ministers will sign an agreement on 'Marine Oil Pollution Preparedness and Response'. This is the second legally binding agreement among the Arctic States and will enhance response measures and cooperation in the Arctic.
The ministers will also welcome the release of several important scientific reports and approve policy recommendations from:
•    the Arctic Biodiversity Assessment, the best available science informed by traditional ecological knowledge on the status and trends of Arctic biodiversity and accompanying policy recommendations for biodiversity conservation,
•    the Arctic Ocean Review and
•    the Arctic Ocean Acidification assessment.
These reports provide new benchmarks and knowledge about the state of the Arctic environment.
Beginning on 14 May, the six working groups of the Arctic Council will make presentations and provide information on accomplishments during the Swedish Chairmanship and their ongoing activities at the 'Folkets hus' (the Community Center) in Kiruna. This event is open to the public and media.
The Ministerial Meeting will take place on the morning of 15 May at Kiruna City Hall. A press event will be held directly after the meeting. Delegates and media will then visit the LKAB iron ore mine, where the working groups will provide further information on their assessments and policy relevant recommendations.
The Kiruna Ministerial Meeting can be followed via web stream from the Arctic Council website.Ministers in attendance:
•             Carl Bildt, Minister for Foreign Affairs, Sweden
•             Lena Ek, Minister for the Environment, Sweden
•             Leona Aglukkaq, Minister for the Arctic Council, Canada
•             John F. Kerry, Secretary of State, USA
•             The Minister for Foreign Affairs and External Trade, Iceland
•             Espen Barth Eide, Minister of Foreign Affairs, Norway
•             Villy Søvndal, Minister for Foreign Affairs, Denmark
•             Erkki Tuomioja, Minister for Foreign Affairs, Finland
•             Sergey Lavrov, Minister of Foreign Affairs, Russia