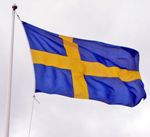 Walpurgis is the holiday when Swedes traditionally celebrate the arrival of spring in their country, but the festivities did not end happily for many people across the nation. Drunkenness, violence, and even a rape of a minor were among the night's most shocking incidents.
The rape of the minor girl took place in a Uppsala county municipality called  Heby, but local police did not give any further details beyond saying a suspect had been arrested and detained overnight.
Uppsala police officer Mats Öjdahl said during an interview with Swedish news agency TT, "Apart from that it has been a regular Valborg with drunkenness, assault and vandalism."
Aside from the rape charge, 10 more people in Uppsala were detained or arrested for various crimes, while 150 more people were brought into custody for drunkenness.
In Muskö, an island archipelago near Stockholm, about 20 people were involved in a public brawl. Police, however, were unable to locate any evidence supporting the claim one person made that another person wound up in the water as a result of the fight.
Stockholm police officer Jonas Palm said in an interview with Swedish news site, the Local, "We have searched with a helicopter and heat-sensor camera, but we haven't found anyone."
Few other major incidents, however, took place in Sweden's capital during this year's Walpurgis celebrations. Ulf Lindgren, another Stockholm police officer, said to the Local, "There were relatively few fires considering this is a night of bonfires and fireworks."
On the other hand, the smaller student town of Lund saw 27,000 people congregate around a much larger bonfire in Stadsparken. The party eventually spread to Lund's city centre.
Calle Persson, a spokesperson for the Skåne police, said to the Local, "There were several fights and cases of assault, but nothing that stood out. People have simply punched each other in the face." Another Skåne police representative, Hans Nilsson, said more partying took place in this southern region of Sweden than last year.
Two people were arrested for stabbing two more people with a knife in Sundsvall, a town in northern Sweden, while a woman from the central Swedish community of Nyköping was charged with severe assault after a man was stabbed in the arm. The city of Gothenburg saw a couple of assault cases and 20 people taken into custody for intoxication.
Choral singing, bonfires, and heavy alcohol consumption are the most common ways Swedes celebrate the coming of spring during Walpurgis Night.