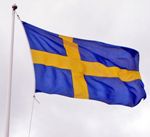 Several high profile Swedish nationals have been named in the scandalous report released recently by the International Consortium of Investigative Journalists (ICIJ), including the name of one aristocrat.
In an explosive expose due on newsstands this week from Fokus magazine, a number of 'nationally recognized' business persons will be revealed as having substantial offshore accounts in tax havens such as the Cayman Islands, the British Virgin Islands and the Cook Islands.
Journalists from more than 45 countries were involved in the investigation, described as the largest ever media collaboration of its kind, in which leaked banking details have revealed the extent of hidden money abroad.
"The mega-rich use complex offshore structures to own mansions, yachts, art masterpieces and other assets, gaining tax advantages and anonymity not available to average people," the ICIJ said as part of the release last week.
The amount deposited offshore, unscrutinised, amounted to some 30 trillion US dollars, more than the net GDP of the world's two biggest economies combined, the report estimated.
This information was gleaned from leaked banking data that was 150 times larger than the Wikileaks files in 2010.
The expanse of the material they went through with their media partners – including Le Monde and the Canadian Broadcasting Company (CBC) – was considerable.
"The total size of the files, measured in gigabytes, is more than 160 times larger than the leak of US State Department documents by WikiLeaks in 2010," the ICIJ website noted.
Interviewed on CBC, Canadian tax expert Arthur Cockfield said; "I've never seen anything like this. This secret world has finally been revealed."