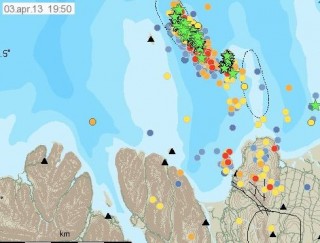 More than 400 minor earthquakes have been recorded off Grímsey Island in the last two days, with shakes felt in Akureyri. Known as a 'swarm', the earthquakes are all of magnitude 3.0 or greater, with M5.5 being the strongest recorded. The have occurred on a fault line North of Iceland and are being monitored by the Civil Protection Department who has issued a level of  'uncertainty'.
Much of the activity is aftershocks from a main earthquake occurring 15 km  east of Grímsey that occurred on April 2nd at 1am. An minor earthquake was recorded in Öxarfjörður fjord. Tremors have been felt in Húsavík, Mývatnssveit, Raufarhöfn and Sauðarkrókur.
This type of activity, in this area, is not uncommon. Similar swarms occurred in 1969, 1974, 1980, 1986, 1994 and again in 2002.  Most of the after shocks are limited to an area of 25kms along the fault line. No special precautions are being taken yet.
On his Iceland Geology Blog, Jón Frímann pointed out that earthquakes are normal in the Bárðarbunga volcano system nearby, and are probably just limited to after shocks.