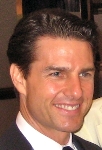 A short video entitled  On the Set of Oblivion shows Hollywood superstar Tom Cruise speaking about his visit to Iceland last summer when he came for the shooting of science fiction film Oblivion along with French actress Olga Kurylenko. 
The film producers chose the eerie landscapes of North Iceland to serve as a backdrop for the Hollywood flick. In the short video released yesterday, Tom Cruise says "I could not wait to get to Iceland. I had never been to Iceland before. Just absolutely stunning!". The featurette goes on to show the producers and others speak highly about the beauty of the Icelandic landscapes.
The Top Gun actor plays a former Marine commander named Jack Harper who comes back to Earth decades after almost all life has been wiped out  by an Alien invasion. "We were there when it was daylight for 24 hours. It's very unique, I haven't seen anything like this before", says Tom Cruise about the midnight sun during the summer months in Iceland.
Tom Cruise's stay in Iceland last summer was a relatively eventful one, as in the scope of a month, he celebrated his 50th birthday and his now ex-wife Katie Holmes filed for divorce. The film Oblivion is set for release on April 19th in the USA.