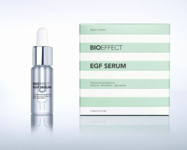 Popular skin care product BIOEFFECT EGF SERUM, by the Icelandic innovation company Sif Cosmetics, has received the internationally renowned GALA SPA AWARDS 2013 for Innovation Concept, during an awards ceremony held in Baden-Baden, Germany on Saturday 16th March 2013.
The GALA SPA AWARDS, presented by GALA, Germany's premium people and lifestyle magazine, is one of the most esteemed international awards granted in the international beauty and spa business.
For the 17th annual awards, 139 product lines comprising of 258 products, as well as a total of 112 hotel and day spa concepts were evaluated. Numerous celebrities and representatives from the cosmetics industry and luxury hotel sector attended the award ceremony.
"We are very pleased to receive this internationally prestigious award. I believe it is quite remarkable for a small, new Icelandic brand, which has mostly relied on the word of mouth of its users in its marketing, to reach this status, in a market driven by advertising. The awards will encourage us to continue building BIOEFFECT as an international brand known for unique efficacy and quality," explained Dr. Björn Örvar, CEO of Sif Cosmetics, producer of BIOEFFECT skin care products.
Supported by its growing loyalty from its fans, the BIOEFFECT EGF SERUM has in a short time become a well-known phenomenon on the international skin care market. It has received excellent reviews in major fashion and lifestyle magazines around the world, including Vogue, Harper's Baazar, ELLE and GALA.
The BIOEFFECT EGF SERUM and other BIOEFFECT skin care products are available in some of the most prestigious beauty outlets and department stores in Europe, including Colette in Paris; Selfridges and Harvey Nichols in London; La Rinascente in Milan; and Parfümerie Schnitzler in Düsseldorf. They are also the most popular beauty products on board British Airways, Lufthansa, Swiss Air, and Air France flights, competing against some of the largest and most established beauty brands in the world.
Based on 10 years of biotechnology research in Iceland, BIOEFFECT EGF SERUM contains cellular activators natural to human skin, which signal the skin to speed up its renewal process and activity. The cellular activators are copied form human skin and produced in barley seed to ensure maximum efficacy and purity.
For more information regarding Sif Cosmetics and its BIOEFFECT range, visit www.bioeffect.com.