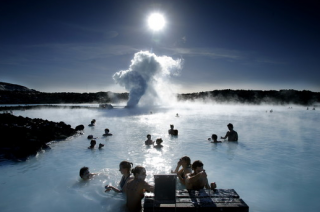 The online edition of the UK tabloid newspaper The Daily Mirror, Mirror Online, has recently published a travel article covering the Blue Lagoon natural spa in Iceland.
Travel writer Andrew Gregory recently travelled to Iceland to visit the Blue Lagoon, where he mentioned,  "Sipping a cold beer in the bubbling hot Blue Lagoon, it's hard to imagine anyone ever wanting to get out. It's just so relaxing."
The article continues to state that the world-famous geothermal spa boasts temperatures of 39C; with subtle, stunning views in almost every direction…it even has its own restaurant built into a nearby lava cliff.
Þórarinn Þór, Marketing Manager of Reykjavik Excursions explains, "It's wonderful to see continuous international coverage of the Blue Lagoon.  The spa is a great resource for tourism in Iceland, one that keeps growing in popularity.
Reykjavik Excursions offers tours to the Blue Lagoon, via transfers either to or from Reykjavík and Keflavík International Airport.