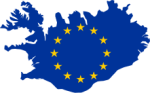 Iceland's ambassador to the European Union has said that accession talks have simply been delayed, rather than suspended. The comments came via a statement issued by ambassador Thorir Ibsen in Brussels last week. Speaking about the speculation that Reykjavik has all but abandoned its efforts to join the EU, Ibsen told reporters, "The correct message is that we are slowing down the negotiations, and we are not disbanding them. That has never been an issue," the EurActiv news agency reports.
He added, "Allow me to share with you that we have been seeing some examples of misleading interpretations in the international press of Iceland's decision to slow down the EU accession talks. The purpose is to ensure prudent and calm management of Iceland's EU accession process during the election period."
The statement came just two days after coalition officials in Reykjavik announced that "no further decisions" on the matter would be made until after the national election in April. An official statement said that the move was intended to "best serve Iceland's interests to safeguard Iceland's position in a responsible manner," Reuters reports.
Iceland's accession efforts continue to meet growing opposition from within the island nation, as Europe's economic struggles linger. The country has closed 11 of the 30 required 'chapters' for admission.