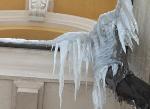 Several records for freezing temperatures have been broken in Finland this week. The record lows came late on Thursday last week and in the early morning hours the day after.
Residents in the town of Konnunsuo, Karelia, saw the mercury plunge to -32.5 degrees Celsius overnight, according to official figures from the Finnish Meteorological Institute. The number marks a frigid record for the location, and whilst several other places also saw records broken, the country's overall record low of -34.7 degrees Celsius set in Kuusamo last month remains in tact.
Other locations that saw record-breaking temperatures on Thursday include the Uusimaa town of Maasoja, where glacial readings bottomed out at  -29.3 degrees Celsius, and Evo in Hämeenlinna, where the overnight low hit -28 degrees Celsius.
Meteorological officials in Helsinki have urged those with major health problems to avoid exposure to the extreme conditions for long periods of time.