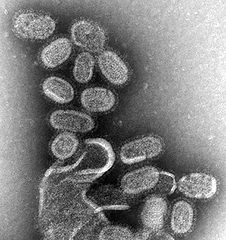 Medical experts have said that Norway has seen the most intense transmission of influenza of all European countries.
The news comes via a new report from the European Centre for Disease Prevention and Control, which classified the Nordic nation as the only regional country with a 'high-intensity' transmission location for the seasonal virus.
However, 11 other nations were placed in the 'medium-intensity' category in the ECDC's Weekly Influenza Surveillance Overview. These included Norway's nordic neighbours of Sweden, Denmark and Iceland, in addition to France, Germany and Italy.
Meanwhile, experts say that the public should be prepared for a slightly different flu season than seen a year ago, although it is not likely to be more severe than an average year.
Angus Nicoll, from the ECDC's flu centre in Stockholm, told Bloomberg, "This influenza season has started early compared to the previous season, which was both late and mild. There is no indication that it will be more intense in Europe than usual."
Last month saw a young boy die of the influenza infection in Norway, whilst more than 20 children have succumb to the virus in the United States so far this season. However, experts say that the US is facing a different set of strains from Europe, and that flu shots will be more effective on the east side of the Atlantic.