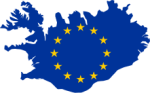 Iceland has suspended talks about its bid to join the European Union until after the upcoming election. The announcement from coalition officials in Reykjavik came via the official government website. The statement read, "The coming months will be marked by preparations for parliamentary elections. In this light, it is in Iceland's best interests that the issue be managed prudently."
Officials said that the announcement confirms that, "further government or parliamentary decisions" regarding EU accession would not be made through the next several months.
Scepticism in the North Atlantic nation regarding accession has been on the rise, as Europe's financial status remains volatile, whereas Iceland's recovery has been largely successful. As such, the ruling Social Democratic Alliance/Left-Green Movement coalition has faced heavy opposition from other parties.
Iceland's initial bid to join the EU came in 2008 following the country's dramatic banking collapse, which prompted a 33-month aid programme in cooperation with the International Monetary Fund, completed in mid-2011.
Reykjavik has satisfied 11 of the EU's 30 accession requirements, although the government statement admitted on Monday that some points remained a concern: "There have been delays in opening negotiations on important chapters,", the statement read.