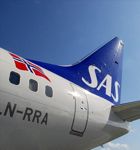 Officials from SAS Airlines have accused Ryanair of avoiding airport fees by lying about the weight of its planes. According to a report issued by the Berlingske Business newspaper on Monday 7 January, SAS bosses submitted an official complaint in the autumn, claiming that its low-cost Irish competitor is providing false figures to aviation agency Eurocontrol.
Spokesman Lars Andersen said on behalf of the joint Danish-Swedish-Norwegian airline, "We clearly don't think it's appropriate for Ryanair to circumvent the rules in order to get off cheaper, leaving us and other airlines that follow the rules to pay the bill."
Landing fees are assessed on every carrier operating at commercial airports based on the weight of each aircraft upon take-off and landing.
Ryanair has provided little insight into the ordeal; the carrier's spokesman Stephen Mcnamara told the media, "Ryanair has a policy of not commenting on rumour or speculation. Ryanair's 737 aircraft operate [at different certified weights] in full compliance with Boeing's flex-weight programme, as certified and approved by the Irish Aviation Authority (IAA)."
Meanwhile, the budget airline remains at the centre of an investigation in Germany after it was accused of defrauding airports out of EUR 370,000 by falsifying take-off weights.