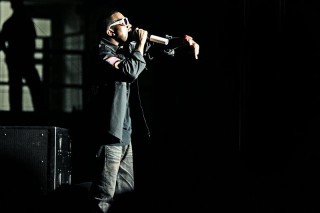 Superstar rapper Kanye West was seen wearing a T-shirt with a picture taken from the Flickr account of Icelander Katrín Þóra Bragadóttir. The amateur photographer intends to press charges as she wasn't asked for permission for having her picture printed on clothes designed by Virgil Abloh, Kanye West's personal stylist.
"I'm both honoured and proud, while determined to seek for compensation for having my picture used commercially", Bragadóttir told Fréttablaðið .
The picture in question, which was taken two years ago and posted on Flickr, is a portrait of one of the photographer's friends. According to Bragadóttir, the photo was probably taken from her Fickr account and posted on Tumblr where it was picked up by Abloh.
"I don't mind my pictures being shared on the internet, but it's a different story if they are going to be used for commercial purposes without asking for my permission. The picture is being printed on a T-shirt which is sold for 85 dollars, which is quite a lot of money".
The T-shirt is sold under Virgil Abloh's brand Pyrex Vision, which dresses Kanye West and rapper ASAP Rocky among others.  Although not a fan of Kanye West, Bragadóttir loves the idea that a world-famous rapper wears a picture she has taken herself but is unsettled by what she believes constitutes a copyright infringement.