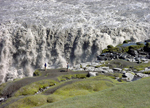 The Icelandic Tourist Board has reported that 618,901 foreign travellers have visited Iceland so far in 2012, which represents 99,000 more tourists than in the same time period last year, or a 19.1 percent increase.
The report shows that 36,950 tourists came to Iceland in November of this year, which is a 60 percent increase compared to November 2011. The number of foreign visitors during the month of November has been rising constantly in the past 10 years, from 12,400 in 2002 to nearly three times as many this year.
British tourists top the list, representing 27.7% of the total number of tourists, followed by Americans (17.4%), Norwegians (8.3%), Swedes (5.8%), Germans (5.2%), Danes (4.9%) and the French (4.1%).