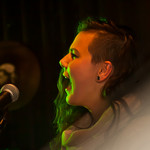 My Head Is an Animal, the debut album of Icelandic band Of Monsters and Men, was voted album of the year 2012 by the American online sales website Amazon.com.
The band's album was released in April this year in North America and Europe and has since received a considerable amount of international attention and garnered critical acclaim, while the album's lead single "Little Talks" reached top 20 in over five countries and No. 1 on the U.S. Alternative Songs music chart.
Also featuring on Amazon's list alongside the Icelandic indie band are acts such as pop sensation Lana Del Rey, Belgian singer Gotye and the English rock band Mumford & Sons.
Of Monsters and Men went on an international tour this year, performing at festivals such as Lollapalooza in Chicago and Osheaga Festival in Montreal, as well as Iceland Airwaves in their hometown Reykjavík.
2012 has been a good year for the Icelandic music industry, with a video of Icelandic singer Sóley nearing 10 million views on Youtube, and the successful release of Sigur Rós' new album Valtari.
Of Monsters and Men are expected to return to Iceland next month for a series of concerts in Reykjavik.
Images of OMAM by olikristinn