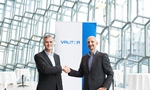 It has been announced that a new Visa gift card processing contract has been signed between Valitor, an Iceland-based international issuing and acquiring service provider, and Presend Nordic, a subsidiary of Retain24, Sweden's leading gift card provider.
This new agreement allows Valitor to issue and process Visa prepaid gift cards on behalf of Retain24 and Presend's clients within the Nordic region. These gift cards can be used for dividends, claims, bonuses, discounts, promotions or other prepaid applications.
Claudio Simatovic, CEO of Retain24, comments, "We look forward to working closely with Valitor. Visa products complement Retain24's existing closed loop solutions, enabling us to better serve selected customer segments such as shopping centres and arenas. Our new solution in cooperation with Valitor is simple, secure and flexible. Over the next months we will be rolling out several new card programs under the Presend brand."
Along with the recent development in Valitor's UK efforts, the company's processing platform has also seen a lot of attention and interest from the European market. Valitor promoted the software in the UK last year in partnership with British organisations and Visa Europe with a great response.
"Gift cards have become increasingly popular and new commercial opportunities have emerged. Presend is an ideal partner to work with in the rapidly developing Nordic market and we look forward to a fruitful cooperation to meet the challenges ahead. Our ambitions are long term and we are committed to continue providing unique solutions and professional services of the highest quality," explained Viðar Þorkelsson, CEO of Valitor.
For more information regarding Visa gift card processing and acquiring services, visit www.valitor.com.