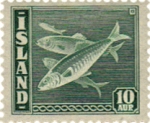 The Marine Stewardship Council (MSC) has appointed a new Senior Fishery Outreach Manager for Iceland, Greenland and the Faroe Islands.
The group, which works to promote sustainable fishing practices in cooperation with local fisherman and a number of other organisations, said Mr Gísli Gíslason would assume the post immediately.
Gíslason is a life-long fisherman and has worked in Iceland fish farming, processing and consulting industries since his youth. He later went on to work for the Icelandic government and has headed a number of major seafood firms from Canada to Westman Island. He holds a BSc in Marine Biology, as well as an MSc in Aquaculture and Fishery science from Norway's University of Tromsø.
Speaking about his new position, Gíslason said, "In the North Atlantic region, certification for Dutch North Sea Herring and assessment of Norwegian saithe fisheries in 2006 marked the beginning of a success story. Today, 45 percent of the catches in the North East Atlantic are taken by fisheries that are certified or in full-assessment against the MSC standards.
"Since 2010, an increasing number of fisheries in Iceland and the Faroe Islands have entered the MSC programme, which has never been more successful in this region. I am looking forward to serving the seafood industry in [its] journey of growing commitment to independent certification of [its] sustainability credentials," fishnewseu.com reports.
The news comes as Iceland and the Faroe Islands face growing criticism from their North Atlantic neighbours due to the countries taking increasingly large shares of mackerel in recent years.