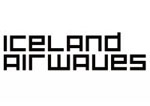 The Iceland Airwaves music festival began yesterday afternoon in Reykjavik, where more than 220 bands are set to perform at various venues around town until Sunday night. The annual event, which draws thousands of foreign visitors to Iceland every year, showcases upcoming musicians alongside well-established acts.
Since the first Iceland Airwaves festival which was held back in 1999 as a one off event in an aircraft hangar at Reykjavik Airport, the festival has become a haven for new music, attracting hundreds of partygoers, journalists and industry members from around the world. David Fricke, Senior Editor at Rolling Stone has labelled Iceland Airwaves as, "the hippest long weekend on the annual music-festival calendar."
Previously the festival has seen live performances by bands such as Florence and the Machine, Klaxons, Hot Chip, Flaming Lips, Wolf Parade, Bloc Party and Fatboy Slim, as well as Icelandic acts such as Björk, Sigur Rós, FM Belfast and GusGus.
This year's lineup features a broad variety of bands amongst which include performances by the Vaccines (UK), Django Django (UK), Dirty Projectors (U.S.) and local favourites Retro Stefson and billboard chart toppers Of Monsters and Men.
The festivities, which are spread across eleven venues in downtown Reykjavik, amongst which includes the newly built Harpa concert hall, will culminate on Sunday night, when Sigur Rós will be performing on stage in Iceland for the first time since 2008.
More 3000 music lovers are expected to visit Iceland during this year's festival, although American visitors travelling from the East-Coast have seen flight delays and cancellations due to Hurricane Sandy.