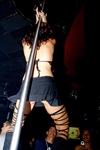 A Danish court has ruled in favour of an anonymous man who complained that a sex club was discriminating against men.
Danish sex clubs, which provide customers with a place to meet others for the purpose of engaging in sex, say that its necessary to charge men for the same service that is free for women.
However, strict anti-gender discrimination laws in the country make such a practice unlawful, Ligebehandlingsnævnet, Denmark's board of equal treatment, ruled this week. The establishment was reportedly charging men anything from DKK 200 to 400 (EUR 26 to 53) for entry, whilst women got in free.
Ligebehandlingsnævnet officials said there have been at least four other similar complaints filed with the body. However, the agency has no authority to impose sanctions on the clubs, so each establishment is likely to continue its desired pricing practice.
The unnamed man who lodged the complaint with the watchdog said that he wasn't a customer but wanted to raise the issue with authorities as a matter of principal, according to a report published by the Copenhagen Post.
Torben Nielsen, who co-owns Jutland's Tucan Swinger & Wellness Club, told reporters from the Politiken news agency, "There are never any members that complain over the price difference, even though many of the members are men. They are not interested in seeing us raise the prices for the women, because they want them to come."